Saraswati Puja is performed twice a year, i.e., on Basant Panchami, and Navratri. Goddess Saraswati is recognized as the goddess of knowledge, wisdom, and learning. Every state worships the Goddess with utmost devotion. In Kerala, this Puja is known as Vidyarambham and it falls on the same day as Vijayadashmi. Read the blog about the Navratri Saraswati Puja 2023 date, rituals, importance, and much more.
Navratri Saraswati Puja 2023
The Navratri Saraswati Puja 2023 will be observed between October 22 and October 24. In Kerala, this day is celebrated as Vidyarambham and this year it will fall on October 24, 2023. In the north and the western part of the country, the Saraswati Avahan will take place on October 20, 2023. Saraswati Puja will be held on October 21, 2023, followed by the Saraswati Balidan and Visaran on October 22, 2023.
Navratri Saraswati Pooja Calender 2023
Saraswati Puja Ritual

Date

Day

Nakshatra

Oct 20

Friday

Mool Nakshatra

Saraswati Puja

Oct 21

Saturday

Purva Ashadha Nakshatra

Oct 22

Sunday

Shravana Nakshatra

Oct 22

Sunday

Uttara Ashadha Nakshatra

Oct 23

Monday
Also See: Today's Shubh Muhurat Time
Navratri Saraswati Puja In South India
Goddess Saraswati is worshiped in the South region for the last 3 consecutive days of Navratri. Folks in this region perform the Puja Vyappu where they place tools in the evening for the commencement of Puja which will be held on October 22, 2023.
Kerala initiates children into the world of learning on the day of Navratri Vijayadashami. Thus, this ceremony is also recognized as Vidya Arambham and will be held on 24 October 2023.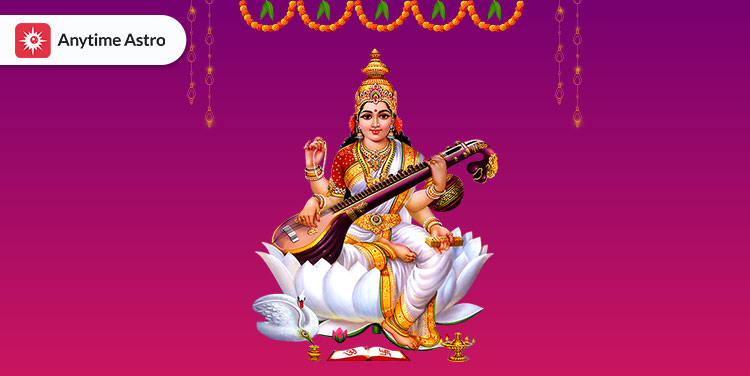 Significance Of Goddess Saraswati
Saraswati Maa is known as the goddess of knowledge, wisdom, art, music, and learning. She exhibits the inspirational and creative aspects of Shakti. When Lord Brahma was creating a world, it was full of chaos and lacked creativity, peace & prosperity. It was then he realized that this world could become a better place through knowledge. After this realization, Goddess Saraswati emerged riding a swan from the mouth of Brahma Ji. She is depicted holding the Vedas and a Veena through which she brings knowledge and rhythm into the world. The swan of the Goddess represents purity that one should have in their thoughts 7 actions. It means that we should find knowledge in everything just like the Swan finds its food in the mud.
In the Hindu culture, every knowledge is sacred since it is considered a blessing from the Saraswati Maa. She bestows individuals with both worldly and spiritual knowledge.
Also See: Durga Ashtami 2023 Date and Time
Rituals Of Saraswati Puja 2023
People worship Goddess Saraswati to seek an abundance of knowledge. This Puja is observed during the blossoming phase of nature. Thus, this puja symbolically represents ushering freshness by removing the gloominess from the Universe.
On this day, the children are introduced to the world of learning and people organize a grand event on this day. Several educational institutions organize puja on this day since this day is highly auspicious for education and learning. The devotees dress the Saraswati Maa's idol in yellow color and tend to wear yellow themselves. The yellow color depicts new enthusiasm and the onset of spring. The Puja is concluded by offering flowers and fruits to the goddess.
Also See: Rahu Kalam Timings Today
Final Thoughts
This blog highlights the significance of Saraswati Puja 2023. This Puja is done to seek blessings from the goddess of wisdom, knowledge, and art, Goddess Saraswati. Moreover, this day is also marked as the day of initiation of learning for the children and is celebrated in the South region. To know more about the significance of this Puja, you can always consult an expert Astrologer. They can guide you well and can precisely tell you the rituals.