If Capricorns have an eye on something they get it no matter how much time it takes. These ambitious sea goats (the Capricorn symbol) are neither afraid of challenges nor hesitant to ask what they deserve. They are very pragmatic and they work hard to achieve what they dream. In public, you may find them cool, calm, and collected while in private, they are hilariously comic with a dark sense of wit.
Can you spot a Capricorn Celebrity with the aforementioned description? Well, you need to stress your mind because we have gathered the list of famous celebrities that are Capricorns. So, take a quick look at this list and discover who are the famous Capricorn celebrities in the world's history.
List of Famous Celebrities That Are Capricorn
Here is a quick list of popular celebrities born in the Capricorn sun sign. Take a quick look and read about the famous Capricorn celebrities who truly live up to their zodiac sign.
1. Michelle Obama
Image Source: wikimedia.org
Date of Birth: January 17, 1964
Profession: Lawyer, author, orator, and philanthropist
Michelle Obama, nee Michelle LaVaughn Robinson is a prominent figure in American politics. She is a lawyer, writer, and wife of the former U.S. president Barack Obama. Not only this, the Capricorn celebrity is known for her strong views and support for military families. She is a female role model who always advocated poverty awareness, education, nutrition, and healthy eating. Her inspirational speeches and unique style of fashion have gained acclaim worldwide by not only the media but the masses. It's her strong Capricorn personality that her influence remained high even after her husband's presidency.
2. Kate Middleton
Image Source: amomama.com
Date of Birth: January 9, 1982
Profession: British Royalty and Philanthropist
Another female Capricorn celebrity on the list is Kate Middleton, Her Highness the Duchess of Cambridge. She is the wife of Prince Williams, Duke of Cambridge, and is likely the future queen consort. Being the Capricorn celebrity, she exhibits an organized and pragmatic attitude. She is committed to her British royal duties and is seen walking hand in hand with her Capricorn soulmate, Prince Williams. She often reminds people of Princess Diana with her sensitivity and generosity. Her preference to keep her private life private is something that makes her a true Capricorn celebrity female.
3. Dolly Parton
Image Source: last.fm
Date of Birth: January 19, 1964
Profession: Singer, guitarist, actress, multi-instrumentalist, author, and businesswoman
Hardworking and driven by high energy, Dolly Parton is truly a Capricorn celebrity. She has achieved great acclaim with her singing and pop music styles. Born into a poor family, Parton displayed a strong passion for country music at an early age. She rose to fame as a Country music icon with her debut album, Hello, I'm Dolly. Since then the famous Capricorn celebrity has had 25 songs that peaked at number 1 on the Billboard country music charts, a record for a female artist. Her achievements include 11 Grammy Awards and 50 nominations, 10 Country Music Association Awards, Entertainer of the Year Award, 5 Academy of Country Music Awards, and so on. In addition, she garnered various awards as an actress and philanthropist. Did you know! Dolly Parton is the godmother of Miley Cyrus, the famous Sagittarius celebrity.
4. Zayn Malik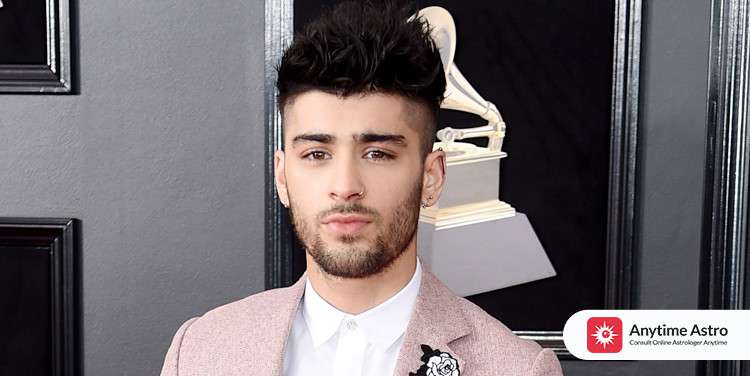 Image Source: vanityfair.com
Date of Birth: January 12, 1993
Profession: Singer
One of the most attractive British singers, Zayn Malik is also a famous celebrity with a Capricorn sign. He was part of the best-selling boy band of all time, One Direction. However, given his ambitious nature, he left One Direction and debuted as a solo artist with his album, Mind of Mine. Its single lead "Pillowtalk" was among Top musical charts of both the UK and the US. The Capricorn celebrity also gained fame internationally with his collaboration with Sia and Taylor Swifts, the popular Pop Singers. Their songs, "I Don't Wanna Live Forever" and "Dusk Till Dawn" respectively became a huge success. Zayn is the only artist who has won the Billboard Music Award for New Artist of the Year two times in the years 2013 and 2017. Do you know Zayn is an Earth sign native just like his Capricorn best match, Gigi Hadid?
5. Bradley Cooper
Image Source: fansshare.com
Date of Birth: January 5, 1975
Profession: Actor, filmmaker, and humanitarian
Eight times Academy Award winner, Bradley Cooper is also on the list of famous Capricorn celebrities. He is an American actor who rose to fame initially with comedic films, however, later his performances in action and drama were also appreciated. His debut TV sitcom was Sex and the City (1999) while his debut movie was a comedy, WEt American Summer(2001). Since then he has been part of various acclaimed movies and TV shows such as He's Just Not That into You, Valentine's Day, Limitless Hit and Run, and The Place Beyond the Pines. Moreover, real fame came on Copper's way when he dabbled in the Creative direction, one of the most suitable Capricorn careers. He directed and produced the movie, Star is Born, which earned him 3 Oscar nominations as well as BAFTA and 2 Grammys for the chart-topping single of the former, "Shallow."
So, there you have it- the list of most famous Capricorn celebrity men and women. Do you dream of success like your favorite Capricorn celebrities, males and females? No worries! Our online expert astrologers at Anytime Astro can guide you with your career and the best course of action for success. They may also suggest gemstones as per your zodiac sign, including Capricorn gemstones, for boosting your positive traits.
Are you confused or feel stuck and lost in life? Chat with Online Astrologers now and gain clarity with foreseen insights. Also, find remedies and solutions for your problems with expert astrology guidance. Chat now!