Shahrukh Khan…!! Naam to Suna Hoga! Yes, guys who do not know the king of Bollywood. Shahrukh, with his enormous fan following, is leading the industry. He started with Deewana and is still ruling hearts with his new movies like Pathan and Jawan.
SRK is popular for his romance and action. This is the reason for his huge fan base, not only in Bharat but also across the globe. As a result, he is also known as the King of Bollywood. The reason behind his success is the hard work and effort that he puts in while playing a role. Furthermore, SRK's new movie Jawan has set a new record for the highest single-day collection in Hindi cinema and crossed over 250 crore in four days.
Hard work can lead an individual to new heights, but what if I told you that there is one more reason behind his success, and That is astrology? The formation of stars, the tithi, zodiac signs, the benefic position of planets, and more. For better understanding, we will see it from an astrological perspective. But before that, let's have a brief look at the Shahrukh Khan's achievements so far.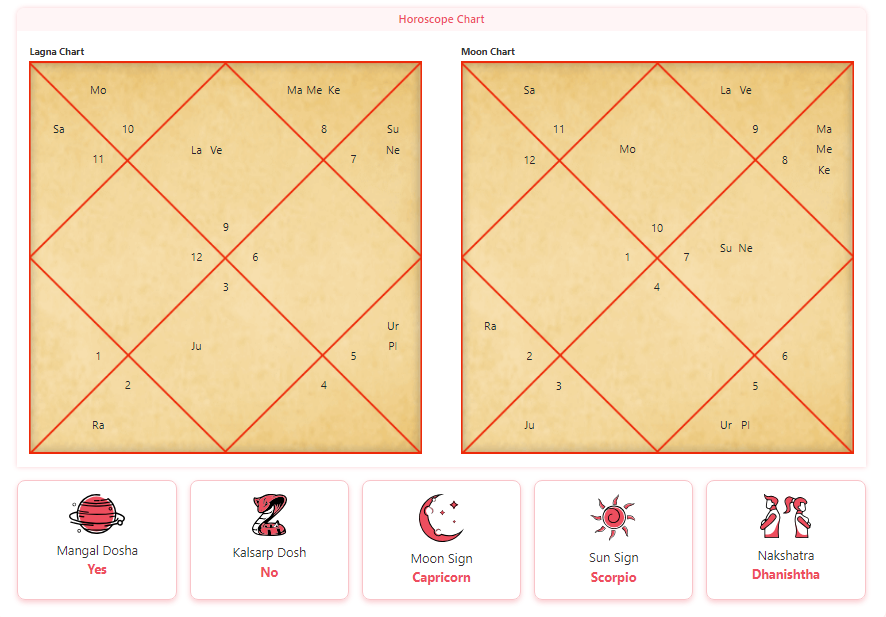 Achievements of SRK
In addition to three Asian Film Awards, Shah Rukh Khan has won two Lifetime Entertainment Awards and 14 Film Fare Awards. He is a well-known actor, producer, and head of Red Chilies, a motion picture production firm.
Born into a middle-class household, Shah Rukh is a self-made actor. He wasn't a member of the film community. But his magnetic personality and determination allowed him to reach the top of Bollywood. His 1992 film Deewana, which served as his debut, served as his introduction to Bollywood. After capturing the hearts of everyone with his talent, he was unstoppable.
SRK's Horoscope Analysis
Shahrukh's Date of Birth is November 2, 1965, and his place of birth is New Delhi, India. This information is crucial for the Kundali examination.
Shah Rukh Khan has the fire sign of Leo as his ascendant. The Sun, which rules over it, is the solar system's strongest planet. He is a courageous man and an excellent actor because of the Sun's placement in the Libra sign's (Venus') house of boldness and ambition.
He earned the audience's affection while playing a negative role in his debut Bollywood film. The Moon was positioned in the seventh house of image in public, which was extremely progressive in terms of popularity, and in the Capricorn sign of Saturn, making it possible.
Effect of Planets in SRK's Horoscope
One of Shah Rukh Khan's horoscope's planets with the most power is Venus, followed by Saturn.
Saturn's position in the seventh house, in the sign of Aquarius, signifies that his public image will benefit from this placement. He is an excellent actor with a daring spark because of the negative Saturn in his natal chart. He had excellent and powerful physical health because of Saturn's rule over the sixth house of health.
Venus is well-positioned in the fifth house of innovation and rules the third house of bravery and the tenth house of profession. It shows that he is willing to work hard and that his natural gift for acting has given him success in his films.
Mars is the lord of the stable fourth house and the fortunate ninth house. Mars is positioned in its own sign, in the fourth house, which governs fame and fortune. It means that he will maintain him in the minds of individuals as a living legend and idol for a very long time.
Mercury, the ruler of the second house of money and the eleventh house of advances, is placed in the house of stability, signifying stability, success, and understanding of one's abilities. These were some of the ladder's fruitful steps that drove him to fame's peaks.
Moon is well-positioned in the sixth house in the Capricorn sign, where it rules the twelfth house. No matter what happens, it will result in excellent health and full support from relatives.
Jupiter, which is rising, is closely related to Mars and Venus. Their combined relationship in the Venus-ruled seventh, ninth, fourth, and eleventh houses of Vedic astrology indicates that it will provide him with the insight to advance his performing profession. His performing profession, personal life, and financial situation will be good in the future because of Mars.
SRK's coming years
Until the year 2026, Shah Rukh is in the Saturn Mahadasha. In his birth chart, Saturn is powerful and in a favorable position. His sixth house of good health and legal matters, as well as his seventh house related to public image, are both under the influence of Saturn.
It will provide assistance until it enters the sign of Aquarius. Which will grant him good health and a gradual and steady rise to fame in his mature character.
These favorable conditions and his passion for his work will lead him to great heights.
Conclusion
Shahrukh Khan's horoscope demonstrates how astrology can play an important role in molding one's personality and path to success. Furthermore, SRK's talent and hard-working personality will take him to new heights. In the present, Jawan is banging the cinemas and making new records. Additionally, Shahrukh Khan will always win hearts and break records with his acting.